Drewary Brown Memorial Bridge
At the time of the death of civil rights leader Drewary Brown in 1998, a replacement for the West Main Street Bridge had been designed and constructed.  City Council decided to name the new bridge for Brown as a memorial to him and to develop a program to honor others, who like Brown had crossed racial, social, and economic barriers  to create a more just and equitable society.
Since 2001, 36 other persons have been honored as Bridge Builders with their names inscribed on plaques on the bridge railings.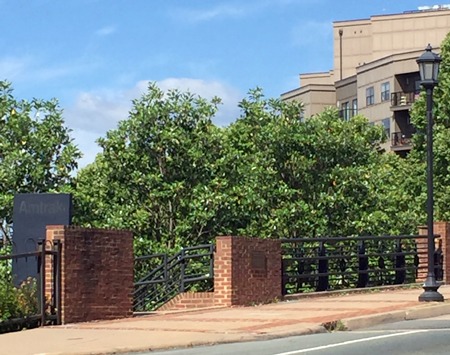 Bridge as Monument
In order to make the bridge a true monument to Brown and the other Bridge Builders, City Council should make enhancements to the Drewary Brown Memorial Bridge as part of the West Main Streetscape Plan now underway.  The City's Blue Ribbon Commission on Race, Memorials, and Public Spaces called for improved visibility and appearance of the bridge in 2016.  Preservation Piedmont has also endorsed this approach.
For drivers and bicyclists, the bridge barely registers as a place, given the greater visibility of the Amtrak Train Station and nearby restaurants.  Even pedestrians must pay close attention to the discrete sign identifying the bridge, and the metal plaques list names and dates of the Bridge Builders without any explanatory signage.
To improve the bridge, we suggest the following:
Placement of large memorial signs at each end of the bridge would identify this special place to pedestrians, bicyclists, and drivers.
Identifying the bridge's name and several Bridge Builders images on lamppost banners would draw attention to a space honoring individuals (see photo at top of this page as example).
Public art celebrating the Bridge Builders could be created in alcoves designed for this purpose by the bridge architect, Warren Boeschenstein. These are located on the south facing the Amtrak Station and on the north adjacent to the Westhaven Playground.
Sign the petition >